The 1st Ceramics Film Exhibition (CICEMA) was held on 24 – 25 February, 2023, at the Germanías Auditorium in Manises. It included the presentation of the International Ceramics Film Festival, which will take place for the first time in 2024 during the 16th Manises International Ceramics Biennale.
The Opening Ceremony took place on 24 February at 7 pm in the Germanías Auditorium. The general principles of the future Festival were presented during the ceremony, as well as its logo and poster, designed by Mac Diego and Xavier Monsalvatje, respectively, and the trophy, by the artist Enric Mestre.
Filmmaker Javier Díez received an Honorary Award in recognition for his pioneering work in Spain making documentary films about ceramic artists who were instrumental in modernizing the art of ceramics in our country and its integration into the visual arts. After the ceremony there was a screening session which was completed the following day with another selection of films.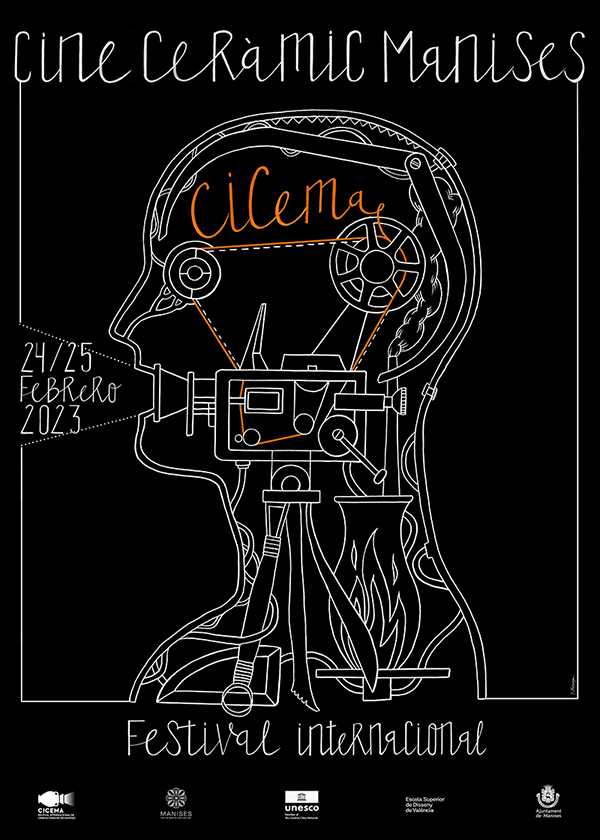 OPENING CEREMONY OF THE FIRST INTERNATIONAL CERAMICS FILM FESTIVAL
Official presentation of the Manises International Ceramic Film Festival (Festival Internacional CICEMA)
Honorary Award to filmmaker Javier Díez
Film screenings
Cerámica Mediterránea, Arcadi Blasco. Dir.: Javier Díez, 1998
Le voci dei pozzi. Dir.: Mirco Denicolò, 2020
Voces. Dir.: Rebeca Bordonau y Diana Sierra Mejía
SCREENING SESSION
Querido Antonio. Dir.: Javier Ramos. España, 2022
Une vie d'argile (Una vida de arcilla). Dir.: Tan Hongyu. Rep. Pop. China, 2014
Carmen Sánchez. Dir.: Laura Miner. España, 2022
Yuriy, el ceramista. Dir.: Carlos Laullón. España, 2023
Screening of a selection of the audiovisual works produced by Ana Illueca within the framework of the ADN Cerámico initiative.